Positive About Pain Workshop
12 Jan, 2020 @ 12:00 pm

-

2:00 pm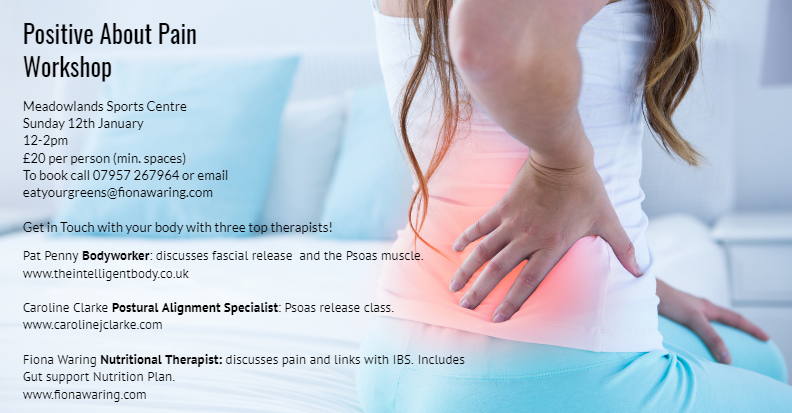 Meadowlands Leisure Centre, Tavistock, Devon PL19 8SP
£20 payment in advance to confirm booking (Limited Spaces 12 maximum)
Agenda
12-12.10 Introduction
12.10 – 1pm Pat Penny discusses fascia and the Psoas whilst partaking in breathing exercise and links with rebalancing your body.
1pm-1.50pm – Caroline Clarke Postural Alignment Psoas release class.
1.30-1.50pm: Fiona Waring discussion whilst class ongoing on how a tight Psoas Muscle can impact Gut Dysbiosis and result in IBS symptoms. Followed by a brief overview on how to support your gut with Nutrition.
1.50 – 2pm Questions
Pat Penny www.theintelligentbody.co.uk provides a plethora of knowledge on the body with over 30 years of experience as a Massage and Body Works Therapist. Pat offers a multi-disciplinary approach in her clinic to include Swedish massage, fascial release, deep tissue release and postural awareness which can result in benefits to your whole system. Pat specialises in advanced strategies for deep tissue treatment, fascial release for structural balance and advanced myofascial release
Caroline Clarke www.carolinejclarke.com qualified as a Postural Alignment Specialist with the University in San Diego, USA. Caroline provides positive pain free solutions for clients who range from teenagers to the elderly.  From a 1-1 full assessment which includes an evaluation of your walk and posture through photos and diagrammatic analysis to understand your symptoms and pain and how it affects you, Caroline will provide a supportive bespoke programme of corrective exercises to straighten and strengthen your weaknesses. She also runs a number of postural alignment classes to include a targeted Psoas release class.
Fiona Waring www.fionawaring.com is a Registered Associate Nutritionist and Nutritional Therapist with over 28 years' experience working within the health and fitness industry.  Fiona began training as a Nutritional Therapist, completing her first course in Naturopathic Nutrition with the College of Natural Nutrition. Then went on to complete another three year course in Nutritional Therapy with The College of Naturopathic and Complementary Medicine. Completing a Master's in Public Health Nutrition at Southampton University in 2018. Keeping current and up to date with Nutrition research is Fiona's main priority. Spending a lot of her spare time reading, researching and attending Nutrition and Medical seminars and also watching Webinars on current and up to date nutrition information. Passionate about her chosen profession. Fiona believes in making nutrition, understandable, enjoyable, practical and adaptable to an individual's lifestyle and needs. Ultimately empowering a person to heal themselves. Fiona's aim is to listen to what a person needs and treat the cause not just the symptoms.